Whitewater Lessons
Easy Whitewater workshop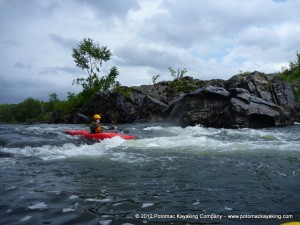 Ready for the thrill of whitewater?!  Our two-day workshop is designed to give you the skills to get the most out of the river!
Learn essential skills such as bracing and carving and how to "wet exit" the kayak safely.  Run the river, catch an eddy, do a ferry, and peel out!
We'll also learn about river features and basic safety.  Bring your own boat and gear or use ours for free!
Where?  Most lessons take place on the Potomac river on easy white water.
When?  Choose from June 15-16, July 20-21, or August 10-11.
Prereqs:  Kayaking 101 or equivalent.
We offer a Combo Kayaking 101 + Whitewater Workshop (see below).
River Run. Caught the whitewater bug?  Take a short trip and practice what you've learned and pick up some new skills along the way.  Who knows, you may even catch a wave!
Where?  Depending on water levels, the Potomac, the Rappahannock and Shenandoah rivers.
When?  Choose from April 21, April 28, May 12, May 25, June 2, June 22, August 3, Sept 22, Oct 6, or Oct 20.
Prereqs?  Whitewater Workshop or equivalent.
Rates
Whitewater Workshop (2 days) $175
Combo:  Kayaking 101 + Whitewater Workshop $250 (save $10)
Whitewater River Run $75
Spring Special!  Take 10% off one person or 20% off two or more when you sign up for the Combo by Sunday, May 26, 2013
Click here to register!
.
Kayak Rolling
Having a reliable kayak roll will build your confidence on the water and open up new possibilities for you to explore different environments.
Our patient instructors — often standing right beside you in the water — will break down the roll into its essential parts, and help you to put it all together.
We offer a set of 3 rolling lessons for those who are new to rolling and also individual lessons for those who have rolled before but want to refine their technique and practice.
Lessons are about 2 hours long and there's usually 1 instructor for every 4 students.
  Where? Warm weather classes meet at Angler's on weekday evenings.  Winter pool classes meet in Takoma Park, MD (a 15 minute walk from the Takoma Metro) on Sunday mornings.
  When?

Contact us

and we'll email you when the schedule is released.
  Click

here

for frequently asked questions about rolling.
Rates
Introduction to Kayak Rolling (3 lessons) – $165
Introduction to Kayak Rolling (Pool) (3 lessons) – $225
Rolling Refinement – $55
Rolling Refinement (Pool) – $75
Click here for our complete schedule.
Click here to register!
 
Find your balance.
.