Today I explored the very north tip of a local paddling resource, the Rocky Gorge Watershed. This section of the watershed is a nice resource, especially if you're local to this area, which is roughly located between Silver Spring and Columbia, MD.
Rocky gorge is the little sister of big sister Triadelphia Watershed.  Both were created by dams built in the 1950′s along this section of the Patuxent River.  These watersheds, or reservoirs, serve as a drinking water source for more than a half a million people.  The area is managed by the Washington Suburban Sanitary Commission.  Various types of recreational activities are permitted, including hiking, picnicing, fishing, boating, and horseback riding.
I paddled a narrow section of the gorge that starts at Brown's Bridge and runs north about 3 miles (6 miles round-trip).  With a slow pace, a few short portages, and a brief stop for lunch, the trip took about 3 hours.
Logistics
A $5 daily permit (or $60 season pass) is required to paddle in the Triadelphia or Rocky Gorge Watersheds.  I stopped at the Brighton Dam Information Center (2 Brighton Dam Road, Brookeville, Maryland 20833) to buy one and got a free map of the area.  Brighton Dam is on the south end of Triadelphia Reservoir.  Below is the view of the Triadelphia Watershed from the Dam.

The GPS coordinates of the put in are 39.145425,-76.963291.  It took me about 10 minutes to drive there from the permit office.
Directions: come out of the information center parking lot and hang a right, heading northeast on Brighton Dam Rd.  Turn right at Highland Rd (MD-216 E/Scaggsville Rd).  Turn right at Browns Bridge Rd and continue for about 2 1/2 miles.  Brown's Bridge Rd leads to (you guessed it) Brown's Bridge, where you'll cross over a narrow section of Rocky gorge. As soon as you cross the bridge, make a left into the parking lot.  Here is a picture of the put in.
Once I got into the water, I made a left and paddled under the bridge, heading northwest.
The water of this section was flat and the current, which was flowing southward, was minimal.
The distance between Brown's Bridge and the next Bridge, Snell's Bridge is about 2 miles.
.
.
Considering how close I was to civilization, the first 1 1/2 miles was calm, quiet and remote.  The next 1/2 mile was nice, but I could hear the occasional car pass by because this section is closer to the road (Tucker Lane).
Between the two bridges, I ran into one canoe, said a quick hello and continued under and past Snell's Bridge.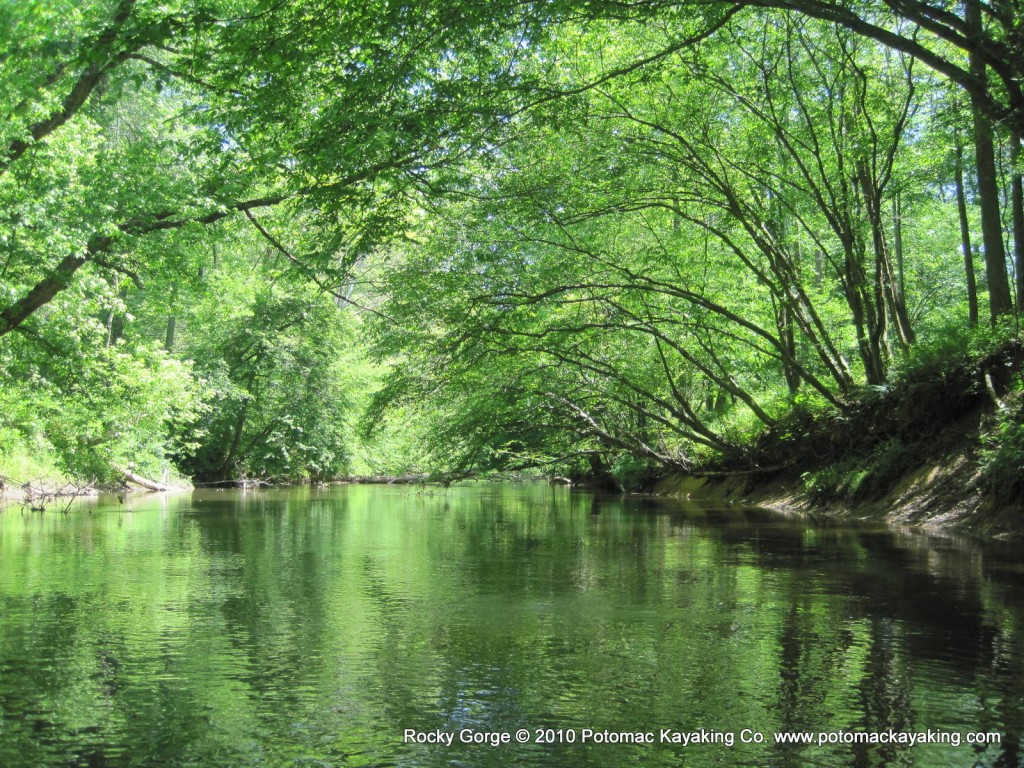 The next mile of the paddle, north of Snell's Bridge was different that the first 2 miles.
For starters the Gorge gets very narrow here.
Then there's the trees that block your way and that you have to portage around.
On top of that, there's some moving water here (about class I), so you have to challenge the current to get through in some places.
All of those factors might lead you to believe that this section of the paddle isn't worth doing; however, that was precisely
not

my view.
Relative to the first 2 miles,
I found this stretch to be prettier, quieter (no sound of cars ) and more secluded

.  The slightly moving water made the paddle more interesting (however, for someone who isn't prepared to paddle in any moving water, this would not be the best place for you).

I paddled until basically I reached an obstacle that would have required a tough portage.
So I stopped and ate my lunch under a tree.
.
.
.
..
.
.
.
Heading back, the slight current helped me get to the put-in back in a timely manner.
I was pleasantly surprised today by the wildlife I saw on this short trip:  fish jumping, turtles, hawks, herons, deer crossing a narrow section of the water, and beaver tracks.
And having a turtle welcome you back is always a plus.  Happy paddling.
.