Sunday, November 20, 2011.  Just 30 miles south of Washington, D.C., lies one of the largest sunken ship graveyards in the Western Hemisphere:  the so-called "Ghost Fleet of Mallows Bay."
Another historical kayaking gem of the Potomac River, Mallows Bay is home to more than 200 partially submerged wooden ships, which were built during World War I to carry goods accross the Atlantic.
.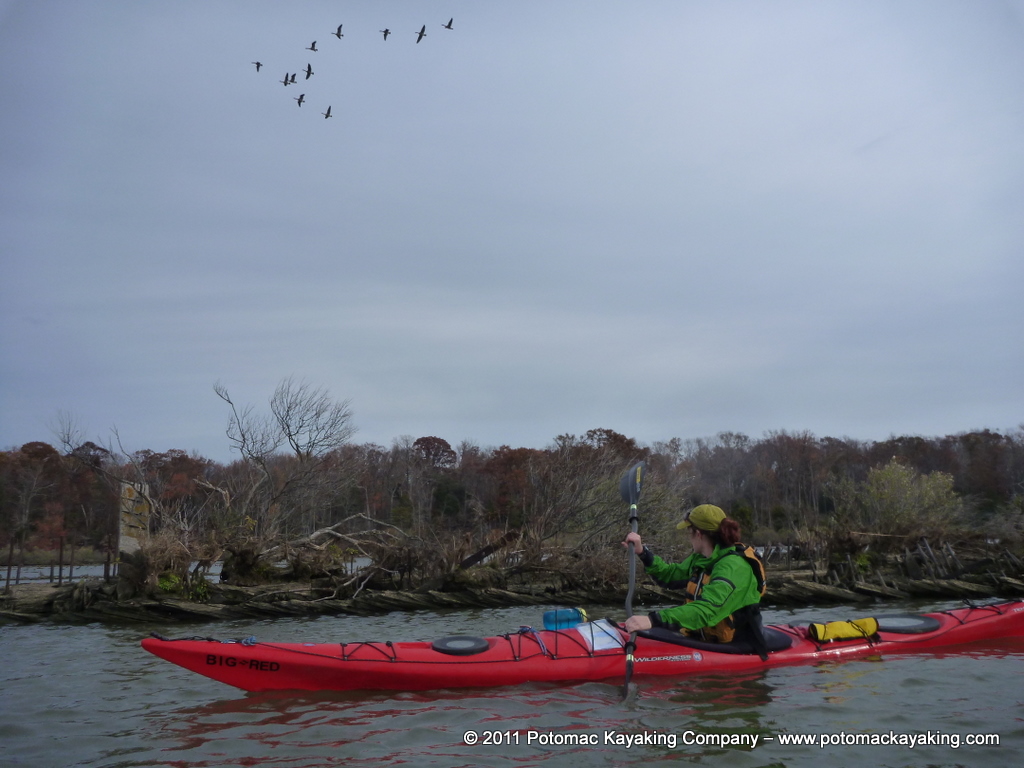 .
Beta
Mallow's Bay lies on the eastern shore of the Potomac River in Nanjemoy, MD.
.
Considering the time of year, the conditions were quite good.
The air temp was in the 60′s; the water temp in the 50′s; winds were blowing from the south 10 mph.
The Potomac River in these parts can be formidable.  It is up to several miles wide and subject to the tides of the Chesapeake Bay.
.
.
.
.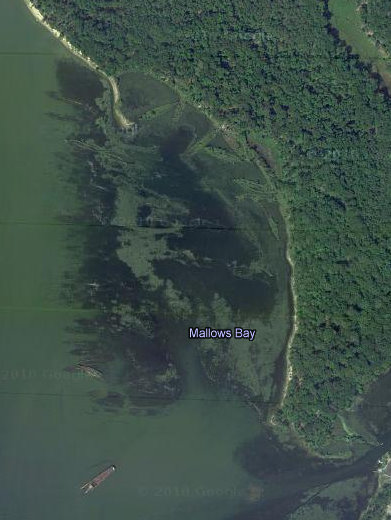 .
.
To get an idea of just how many ships there are in Mallows Bay, check out this google earth image.
Look carefully and you can see the outlines of the boats on the left hand side of the picture.
.
.
.
.
.
.
.
.
.
The Trip
We kayaked around the ships of the Bay for about and hour, and then headed south about 3 miles to the next body of water, which is Wades Bay.
We found a beach, had lunch, and then headed back. The total trip was about 4 hours.
A kayak launch constructed in 2010 provided fun access (see below)!
.

.
As soon we launched, we stumbled upon the remains of the first ghost ship.
.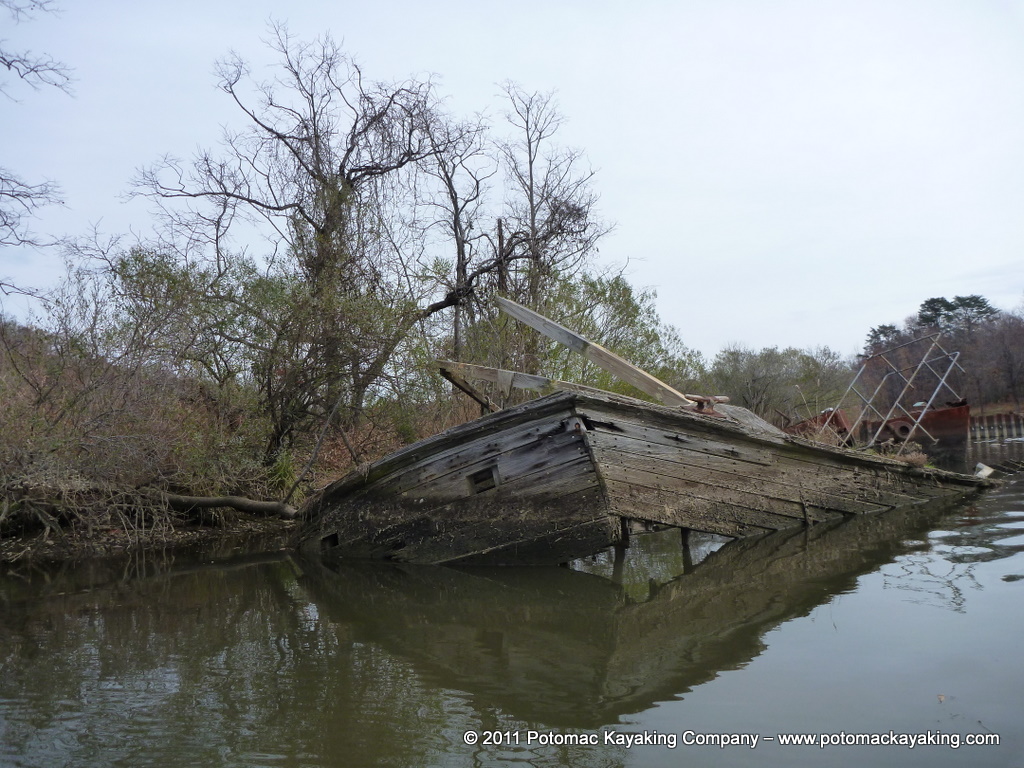 .
We continued kayaking into the Bay and were quickly surrounded by more ships.
.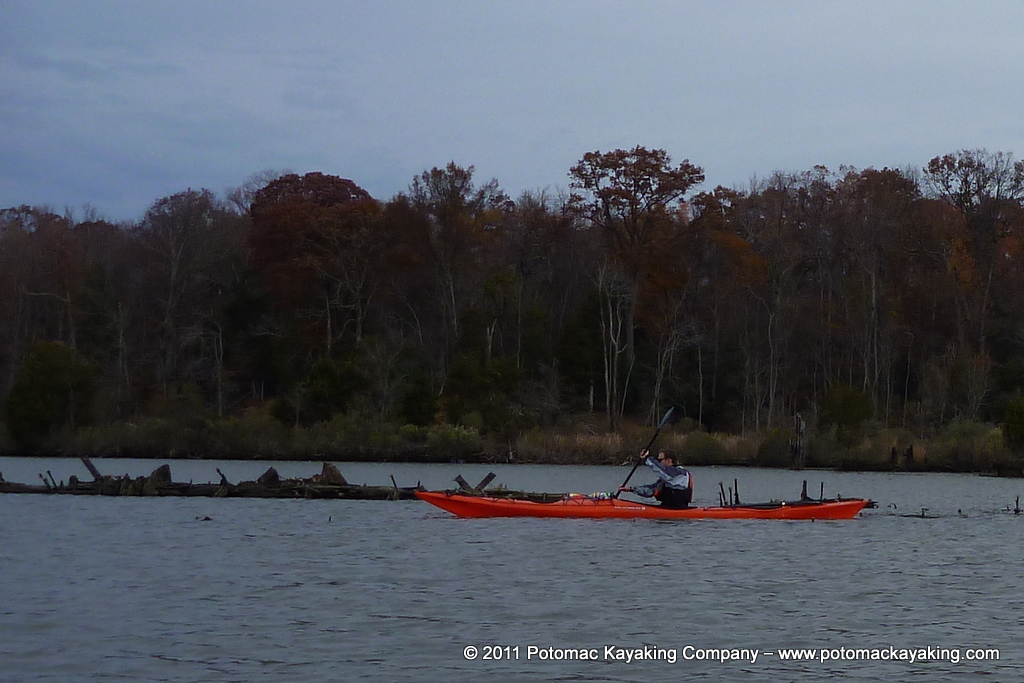 .
The ships have been here so long that many of them have developed their own ecology, with trees and shrubs growing right on their decks.
.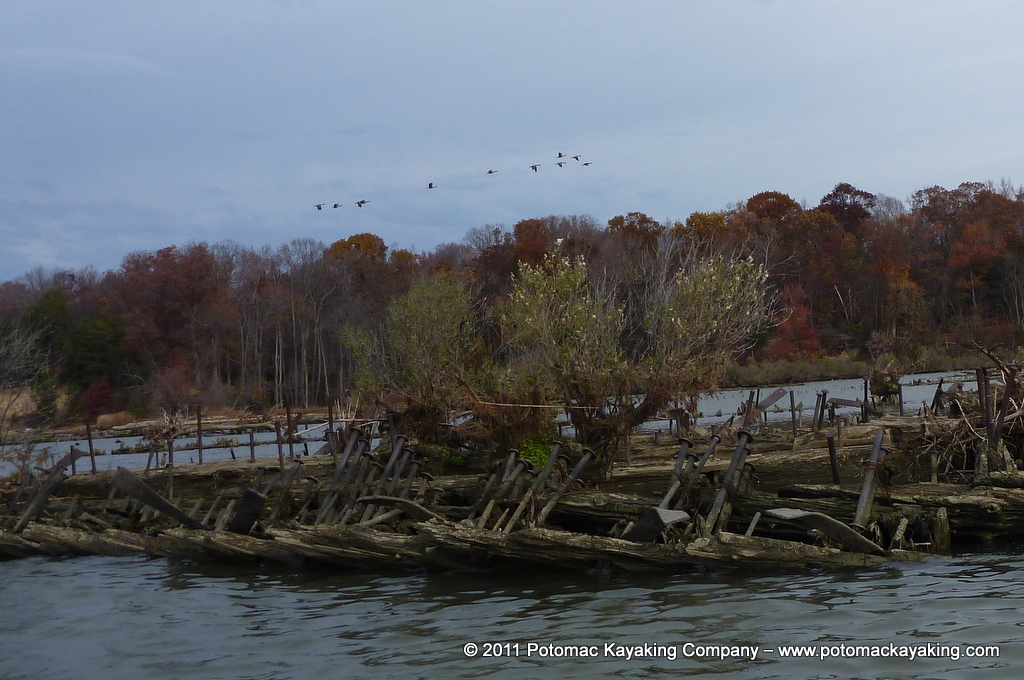 .
.
.
.
One of the unexpected treats of the trip was the variety of birds we saw, including herons, comorants, and bald eagles, one of which is pictured here.
.
.
.
.
.
.
.
.
.
.
.
We continued to the south part of the Bay, where there appeared a much more modern vessel.
.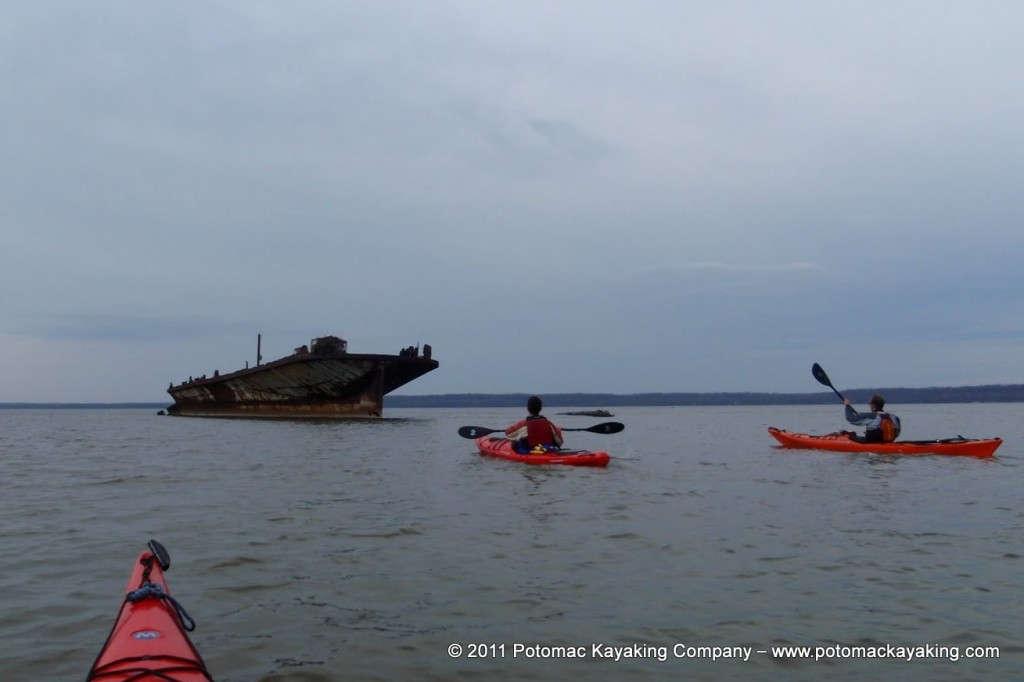 .
Then we headed south to Wades Bay.
.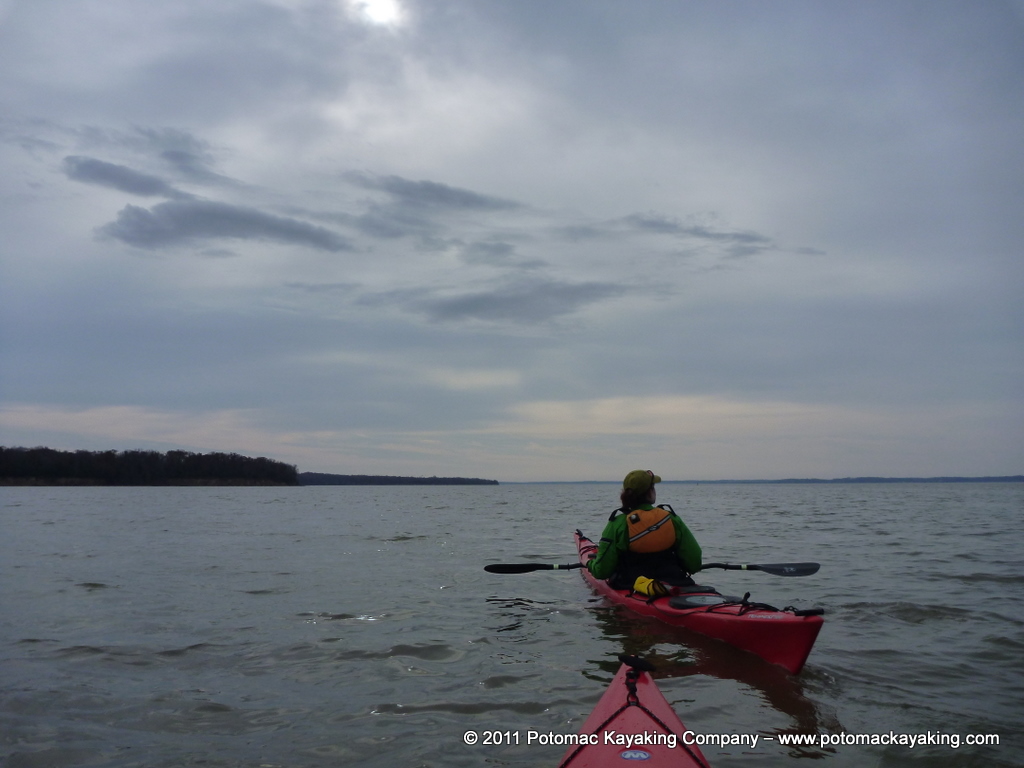 .
And found a beach to have lunch on.
.

.
The sand and shells on the beach made for good exploration.
.

.
After a bite to eat, we headed back to Mallows Bay.  This time, with the winds on our backs.  What a great trip!
Click here for the complete slideshow.
.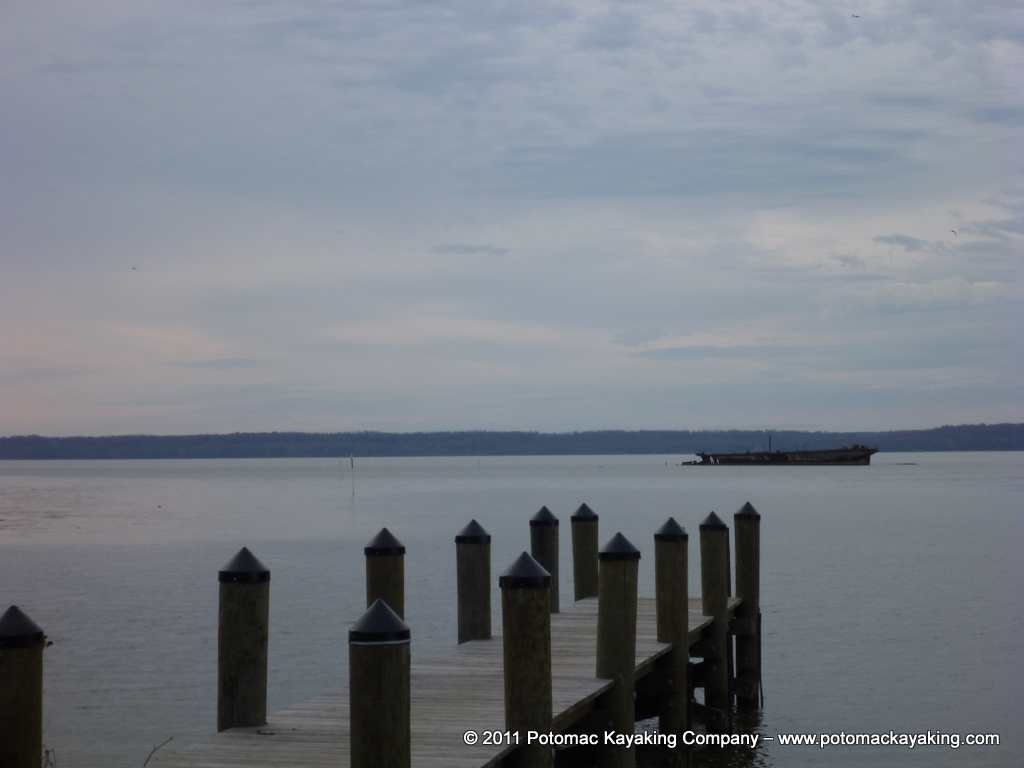 .
SYOTR!
.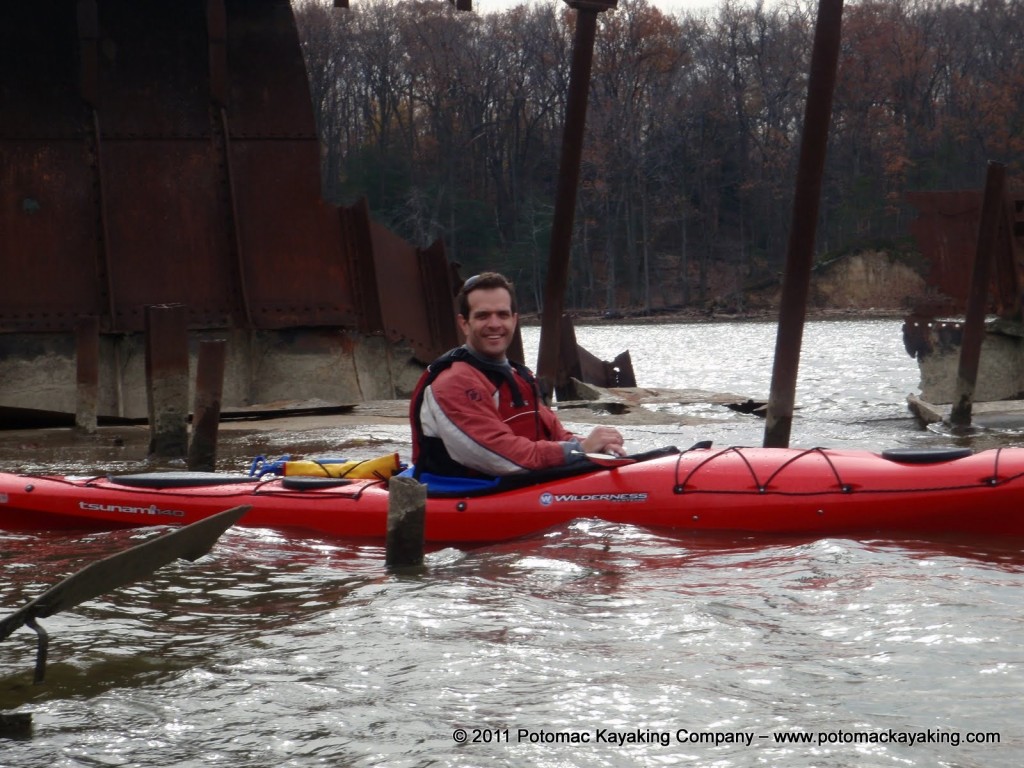 .
 © 2011 Potomac Kayaking Company
.
*Note, trip reports are for informational purposes only, and the  information contained therein should not be construed as recommendations or facts.  Paddlers must take responsibility for their own safety and plan  accordingly.*
.